This is something that I have always tried to make clear, but perhaps I have failed to do so. This mod, for me at least, was designed to be a statement that Bethesda could have used other shaders and arts already in the Vanilla game instead of the ones they chose for the enchantment shaders and arts. That is the reason that, when users tell me that I made a great mod, I usually try to redirect the credit away from me. To reiterate: all of the shaders and arts that you see on the fire/frost/shock weapons already existed in-game, but were applied elsewhere; I just decided to apply them here as well, instead of those boring original shaders. As you might be able to predict, this means that I have almost absolutely no knowledge of modelling or texturing. If you refer to the Description tab, you'll find that I've discovered no in-game shaders or art that I deem better than those I already have applied in the mod ( and I have looked at all of the shaders/arts included by the DLCs). This is, of course, a subjective assessment.
I do agree that the fire effect is disappointing. In a perfect world, I would have loved the fire enchantment to look like as it does in Dark Souls: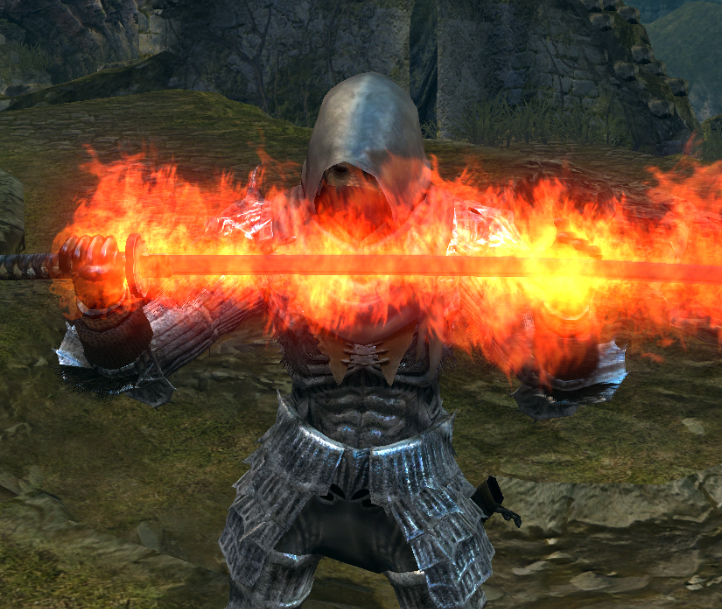 However, this is the best combination of a shader and art that I have found. If your distaste for it is so significant that you would prefer to have the Vanilla shader back, please PM me and I can give you instructions to achieve that. As for other types of enchantments, such as Soul Trap, no shader/art that I found that was already in the game would be better than the Vanilla shaders, in my opinion. I would recommend that you look into the other mods that alter the enchantments' shaders and/or arts.
I regret that I cannot fulfill your request, because it is unfortunately outside of my area of knowledge.