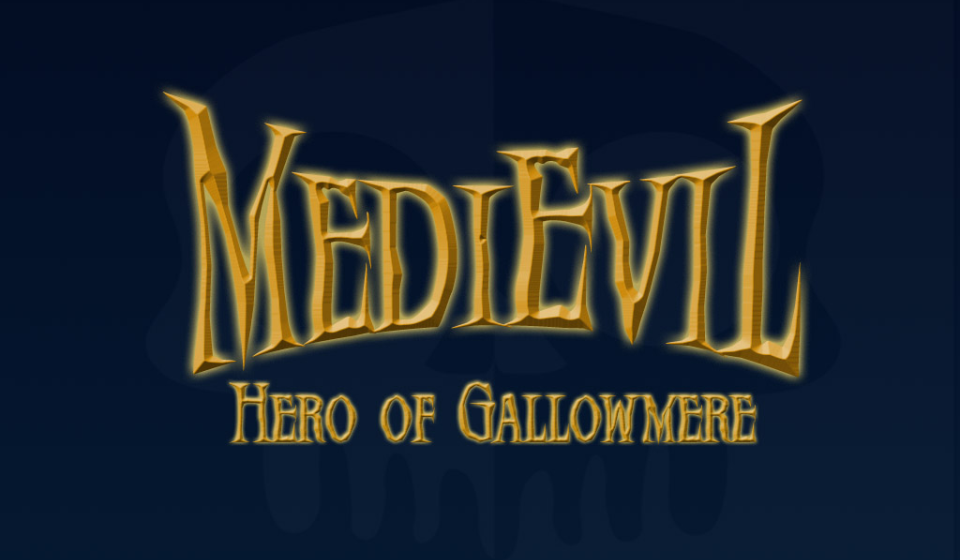 SUMMARY 
 
MediEvil: Hero of Gallowmere is a fan based project that aims to recreate the first four levels from MediEvil game (PSX). It's still work in progress.
 
Get in the shoes of Sir Daniel Fortesque, a long deceased knight that just got resurrected! Explore the land of Gallowmere on your quest to catch Zarok, an evil sorcerer that stole the souls of the living and used them to rise the dead (including you).
FEATURES:
First four levels from MediEvil, rebuilded in Skyrim. This is equal to around 2-3h of gameplay.
A linear Halloween-style adventure in completely new land, full of fun and a little crazy characters.
Beautiful, hand-crafted arenas and locations.
Original soundtrack to bump the Halloween vibe even more!
Great boss fight at the end.
Handful of puzzles and side quest to scratch your had and equip you with better gear.
Unique sense of humor.
Ability to use your own arm as a weapon.
Collectibles with Trivia about the original game (unlocked after defeating the boss)
YOU CAN DOWNLOAD THE MOD HERE:
nexus mods: http://www.nexusmods...im/mods/71021/?
moddb: http://www.moddb.com...o-of-gallowmere
steam: http://steamcommunit...s/?id=545458697
 
 
What is MediEvil? - (not so) short info about the inspiration for this mod:
MediEvil is an action-adventure video game and the first installment in the MediEvil series. It was developed by SCE Studio Cambridge and published by Sony. It was released on October 9 1998 in Europe, October 21 1998 in North America and on June 17 1999 in Japan for the PlayStation. Due to its success, the game was released in 1999 as a platinum title in Europe. It was also released in a bundle with C-12: Final Resistance on May 9 2003.
 
During the game, the player must go through several places, from a graveyard full of zombies, to a flying ghost ship full of undead pirates, to a levitating board in an enchanted forest surrounded by flying demonettes. There are also several collectible items found in the levels which have to be collected in order to proceed to further areas or levels. There are several books placed upon stands all over areas in the game which may offer advice to Sir Dan, while some others contain humorous jokes or generally the history of the area. Some of them are placed in hidden places, but they are mostly found along the path that Sir Dan takes. 
 
The game starts with a flashback in the 13th century in the fictional Kingdom of Gallowmere. The game puts the player in control of Sir Daniel Fortesque: the reanimated skeletal remains of a deceased champion knight whom history holds in high esteem, due to his supposed heroics in battle against the evil sorcerer Zarok who, in 1286, had raised an army of demons and set out to take over the kingdom. The legend has it that Fortesque lead the King's army into battle against Zarok's demonic hordes and that Sir Daniel himself killed the sorcerer during the battle - despite having actually been mortally wounded at the outset - cementing his posthumous status as the "Hero of Gallowmere". 
 
 
 
 
 
PAST UPDATES:
Update 4 
Hilltop Mausoleum - screenshot sample 
Update 3 
Update 2 
Update 1 
CREDITS AND RESOURCES: 
Edited by KorinOo, 01 November 2015 - 05:00 pm.