Has anyone encountered something like this before (see screenshot)? I've downloaded the "Life In The Ruins" mod list (see mod list below). I installed a few extra mods like glowing bobble heads, xdi, PAC, etc. but nothing that I feel would cause this issue.
To the super smart mod issue troubleshooters here are the symptoms.
Issue only occurs with a combination of some weapons and clothing. Screenshot is the "Stars and Stripes" underarmor and "The Wattz 3000" weapon.
The issue only occurs when sneaking.
The issue doesn't occur with some scopes on The Wattz 3000. I also have a piple rifle that has the issue all the time regardless of scope. See second screenshot.
The default Vault 111 suit doesn't have the issue.
Army Fatigues does not have this issue.
Road Leathers does not have this issue.
Raider Leathers does not have this issue
Harness has this issue.
Summer Shorts has this issue.
Stars & Stripes has this issue.
Any ideas on what could be causing this?
(Screenshot #1 - Wattz 3000 & Stars & Stripes (Underarmor).)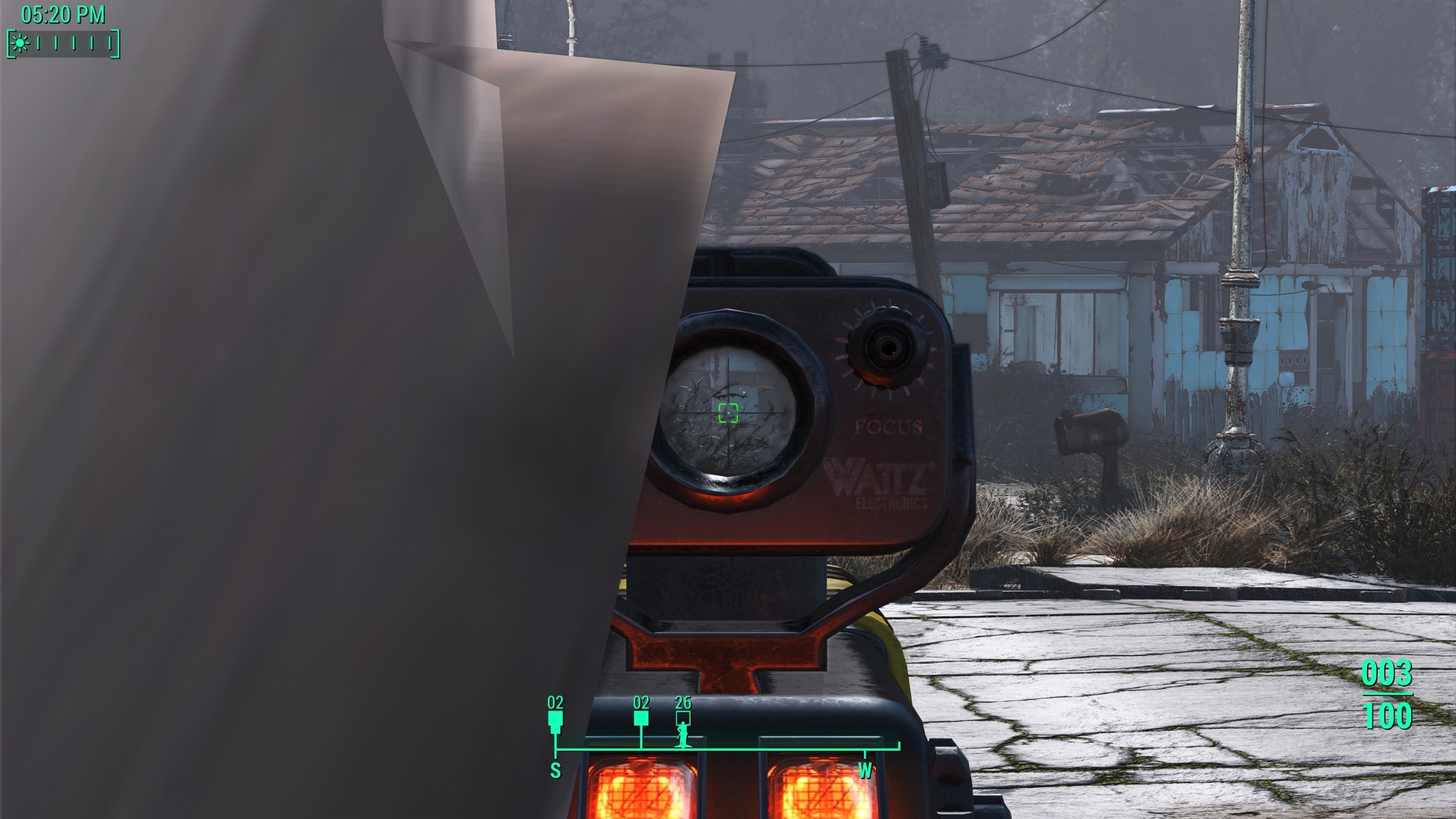 (Screenshot #2 - Pipe Rifle & Stars & Stripes (Underarmor).)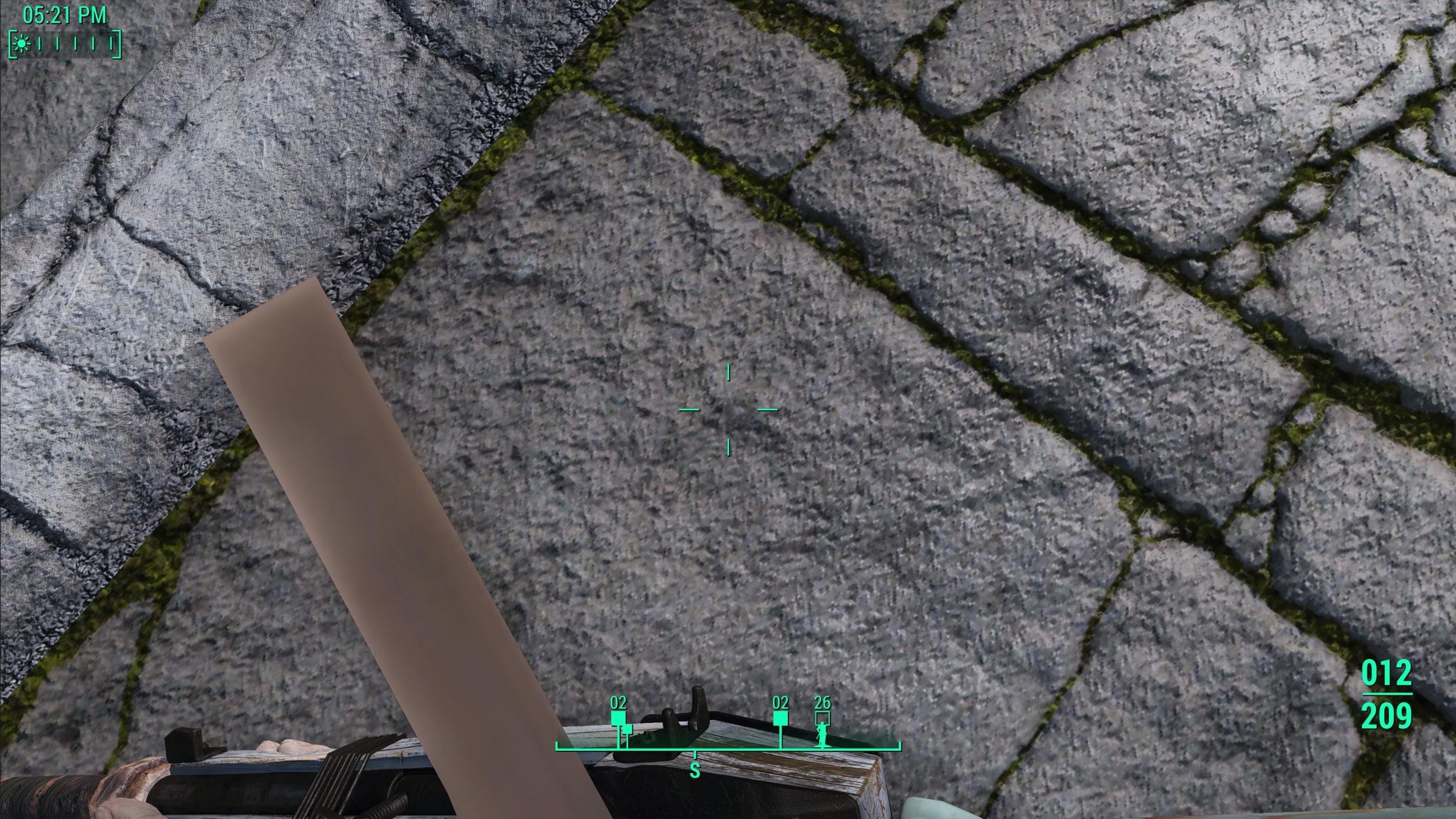 Fallout4.esm
DLCRobot.esm
DLCworkshop01.esm
DLCCoast.esm
DLCworkshop02.esm
DLCworkshop03.esm
DLCNukaWorld.esm
Unofficial Fallout 4 Patch.esp
ArmorKeywords.esm
FactionDistributionFramework.esm
HUDFramework.esm
WorkshopFramework.esm
TrueStormsFO4.esm
SS2.esm
SS2_XPAC_Chapter2.esm
DEF_WIDGETS_CORE.esm
SS2WorkshopHUDOverride.esl
CanarySaveFileMonitor.esl
Flicker Fixer.esp
PD_LowerWeapon.esp
Immersive HUD.esp
HoloTime.esp
CompanionStatus.esp
PowerArmorHUD.esp
def_w_PA1.esp
R88_SimpleSorter.esp
laserproject2k.esl
flamerproject2k.esl
Indubitable Ivy.esl
ballisticproject2k.esl
Quintessential Quarries.esl
NQAS - VaultTec.esl
RedderRocket.esl
NQAS - Automatron.esl
NQAS - BoS Fire Support.esl
PickaxeWeapon.esl
BerettaM9FS.esl
True Caves.esp
GreenGoo.esp
RB_SynthkindRedefined.esp
WAVE.esp
Gritty Subway Stations.esp
Makeshifttextures.esp
Marvelous Missile Launcher.esp
The Fancy Fatman.esp
The Fantastic Forty Four.esp
The Hunting Rifle Set.esp
MM Shelter.esp
Burnt Magazines and Comics Retexture.esp
Better_Notes.esp
Nuka-MixUniqueTextures.esp
Fixed Gobo Effects.esp
Wetness Shader Fix.esp
Piezonucleic_Fix.esp
Fixed Alpha Map.esp
MK_ComponentsRedone.esp
ImmersiveSupermutantsOrders.esp
chem redux.esp
LoreFriendlySurvivalChems.esp
WeaponModFixes-GOTY.esp
BerettaAdditionalCustomization.esp
BerettaM9FS_AnimationOverhaul.esp
GravityFist.esp
Plasma Saber.esp
F4NVServiceRifleRedux.esp
McMillanCS5.esp
Makeshift SMG.esp
T6M_PumpShotgun.esp
vsq_PipeAssaultRifle.esp
T6M_SS-MG.esp
RailwayPistol.esp
PJARPistol.esp
WattzLaserGun.esp
WattzLaserGun-UnofficialUpdate.esp
HomemadeLasRevolver.esp
Zapgun.esp
pulsecarbine.esp
CROSS_BreakActionLaser.esp
HandmadeAntiMaterielRifle.esp
skewer.esp
PipeShotgun.esp
LunarFalloutOverhaul.esp
Crossbow.esp
Lunar-ServiceRifle.esp
LFO Gravity Fist Patch.esp
LFO Laserblade Patch.esp
Lunar-MakeshiftSMG.esp
Lunar-Beretta.esp
Lunar-PumpShotgun.esp
Lunar-CrossBreakActionLaser.esp
Lunar-Nailgun.esp
Lunar-PJAR.esp
Lunar-PulseCarbine.esp
Lunar-Raygun.esp
Lunar-SentryBotGun.esp
Lunar-WattzLaser.esp
Lunar-ZapGun.esp
Lunar-PipeAssaultRifle.esp
Lunar-PipeShotgunCollection.esp
Lunar-McMillanCS5.esp
Lunar-HandmadeAntimaterialRifle.esp
Lunar-Skewer.esp
YogCrowbar.esp
YogMadCan.esp
Buzz_Axe.esp
WMW_TS.esp
ConcreteSledgehammer.esp
Fireaxe.esp
BowieKnifes.esp
FryingPanSA.esp
BullDozierStandalone.esp
BoxcutterSA.esp
Butcher.esp
ScalingTweakLunar.esp
AdrenalineRush.esp
Elzee Dynamic Timescale.esp
HARDCore.esp
SCM.esp
BetterLegendaryMutations.esp
Complex Vendors.esp
EveryonesBestFriend.esp
RecycleBottles.esp
CompanionTracker.esp
CompanionWhistle.esp
jdmCouchSleep.esp
RandomValuablesRedux.esp
Journey_CaravanTravel.esp
Creative Perks (Companion Perks).esp
Creative Perks (everything).esp
LevelledSpecials.esp
CreativePerksPlus.esp
CreativePlus-Lunar.esp
Survivalist Medic Perk.esp
Freeze.esp
Locky Bastard.esp
Ultimate Hacking.esp
CreativePlus - JourneyCaravanTravel.esp
Creative Perks Plus - MrSandman Sneaky Kills.esp
CreativePlus - UltimateHacking.esp
Unique NPCs - Creatures and Monsters.esp
UniqueCreatures-ScalingTweaks.esp
SuperMutantRedux.esp
D.E.C.A.Y.esp
Vertibird Faction Paint Schemes.esp
GhoulHorde.esp
True Legendary Enemies.esp
NONE - Ballistic Weave Overhaul.esp
Armor_Modifications_Overhaul_RoboArmor.esp
Armor_Modifications_Overhaul_Synth.esp
AtomsGloryThreads.esp
CROSS_CourserStrigidae.esp
CROSS_InstituteExpeditionarySuit.esp
Look At Me IE.esp
CROSS_BrotherhoodRecon.esp
Gunmetal-Clothing-Variaty.esp
GunmetalArmorSkins-RaiderArmorPack.esp
GunmetalArmorSkins.esp
FDF - CombatArmorDecals.esp
GreaseRatGarbs.esp
GreaseRatGarbs_RaiderPatch.esp
DCGuard Extended Wardrobe.esp
Eli_Armour_Compendium.esp
VaultScientist.esp
Backpacks of the Commonwealth.esp
No Aggro Impact Landing.esp
Minutemen Paint Job.esp
DT_GunnerOutfitPack.esp
LBPAC.esp
Consistent Power Armor Overhaul.esp
LBPAC CPAO Patch.esp
RaiderPAChopShop.esp
ConcordPAExplosion.esp
LitR-RaiderPowerArmorVariableHealth.esp
Mors Shortcut to Curie.esl
MoreToys.esl
LitR-FusionCorePatch.esp
Power Armor to the People.esp
Power Armor to the People - Automatron.esp
Power Armor to the People - Consistent Power Armor Overhaul.esp
Power Armor to the People - Far Harbor.esp
LBPAC-PAttP.esp
Power Armor to the People - Gunner Outfit Pack.esp
Power Armor to the People - Minutemen Paint Job.esp
Power Armor to the People - Nuka-World.esp
Power Armor to the People - R88 Simple Sorter.esp
Power Armor to the People - Raider Chop Shop.esp
PA-DT.esp
UniqueUniques.esp
SRO - Syringer Overhaul.esp
Resized_10mm_Pistol.esp
GunmetalWeaponSkins.esp
GWS-HandmadeRiflePaints.esp
3dscopes-replacer.esp
3dscopes-replacer-crossbow.esp
3dscopes-replacer-servicerifle.esp
3dscopes-replacer-wattz.esp
3dscopes-replacer-hamr.esp
Immersive_Molotovs_FlamerESL.esp
SPTFIRE-ALLDLC.esp
SpitfireBallistics.esp
HWL - Spitfire.esp
Battleaxe.esp
HammerAxe.esp
Meleebangs.esp
PistolBangs.esp
Ketaros_Magazines.esp
New Bobbleheads.esp
UnbogusLunchboxes.esp
HuntingRifleSounds.esp
FG_ReloadSounds.esp
ImmersiveAnimationFramework.esp
LooksMenu.esp
LooksMenu Customization Compendium.esp
AzarPonytailHairstyles.esp
Orphans.esp
Guards.esp
Facials.esp
UNPC - NamesHeightsWeights.esp
Keep Radiants In Commonwealth.esp
RustDevilRedux.esp
Vault4.esp
SaveAcadiaFromBoS.esp
FaceMaxson.esp
InstituteReformation.esp
SkipHSH1_6.esp
BoSStory.esp
InstituteStory.esp
3DNPC_FO4.esp
3DNPC_FO4_DLC.esp
DCGuard_Overhaul.esp
DCG_UniqTex.esp
DCG_faces.esp
DocDrumlin.esp
AttackSpawnsOutsideSettlement.esp
SettlementMenuManager.esp
K198Recruit.esl
RecruitJule.esl
RecruitCora.esl
ChCl.esl
RecruitMac.esl
RRPW.esl
RecruitVirgil.esl
RecruitMiranda.esl
RecruitShellyTiller.esl
RecruitKat.esl
RecruitArlen.esl
RecruitDarla.esl
RecruitKatelyn.esl
RecruitPhyllis.esl
RecruitRESettlers.esl
RecruitAmnesiac.esl
NPSShopping.esl
Amelia and Dan at Bunker Hill.esp
SS2Extended_OutfitInjectionPatch.esp
SS2Extended.esp
SS2_NobodysLeaders2_VaultTecWorkshop.esp
SS2_NobodysLeaders2_NukaWorld.esp
SS2_NobodysLeaders2_Automatron.esp
SS2_NobodysLeaders2.esp
SimSettlements2ChildSupport.esp
Sim Settlers 2 Go Shopping.esp
PiperCaitCurieDialogueOverhaul.esp
SS2 Better Outfits.esp
ohSIM_Sim2_Settlements_Scrappers_Addon.esp
SS2_ruined_simsettlement_addonpack.esp
SimSettlements2_AddOnPack_ApocalypticAdditions_SirLach.esp
SS2_FDK_TinyLiving.esp
SS2WastelandVenturers.esp
SKKRedRocketWorkshopsFaction.esp
Ai Tweak.esp
TinaDeLucaSettlerVoiced.esp
Resettle Jared.esp
Riley Sticks Around.esp
UniqueNPCSettlers.esp
NL_NatWrightSettler_Update.esp
MS SS2 Unlock Vanilla Recruitable Vendors.esp
CGOsoundsplugin.esp
CityAmbience.esl
Faded Glory - Soundtrack Expansion.esp
Fallout Suite.esp
RandomCity.esl
LushAmbience.esl
Ownership Fixes.esp
DCRE.esp
RadiantBirdsv05.esp
Project Reality Footsteps FO4.esp
Stimpaks help you breathe.esp
Elzee Jolly Item Sounds.esp
Non-Generic VATS - DLC.esp
ImTalkingToYou.esp
A Forest.esp
PuddleMod.esp
FLORA - The Fungal Forest.esp
TrueGrass.esp
TownSigns-NukaWorld.esp
TownSigns.esp
InoueFusionFleaFix.esp
A Variety of Containers.esp
AVOC DLC Patch.esp
Rsiyo'sLocationPack.esp
Commonwealth Overhaul.esp
InsideJobs.esp
stumbleuponinteriors.esp
MTM-NukaTownEastArchwayFix.esl
MTM-SlocumJoeCorporateHQReceptionCeilingFixed.esl
Rusty Face Fix.esl
DiamondCityAutoClose.esp
AtomCatGarage.esp
redrocketroof.esp
Convenient Bridges.esp
Fallout 4 AI Overhaul.esp
TrueStormsFO4-FarHarbor.esp
TrueStormsFO4-NukaWorld-FH-Compat.esp
ClarityTS.esp
True Nights v03.esp
Real Water HD for ENB.esp
WET.esp
CROSS_GoreCrits.esp
CROSS_GoreCrits_FarHarborPatch.esp
PowerArmorImpactEffects.esp
Pip-Boy Flashlight.esp
Publick Occurrences Expanded.esp
General Atomics Fix.esp
PlantBeans.esp
PerceptionBugFix.esp
spacefiddle_Follower-Stealth-Distance-Fixes.esp
JP_Extra_Nav_Fix.esp
DoorsNotWalls.esp
RiverFix.esp
CompanionActiveWait.esp
Nuka World Bottle Fix.esp
dD-Realistic Ragdoll Force.esp
AtomCatsDragRaceStartFix.esp
Immersive Paint Job Unlocks.esp
FDF-CRAPRustyWeapons.esp
FDF-ClothingColorVariety.esp
FDF-Gunmetal-Armor.esp
FDF-Gunmetal-Weapons.esp
FDF-PumpShotgun.esp
FDF-MakeshiftSmg.esp
FDF-PipeShotgun.esp
FDF-PipeAssaultRifle.esp
FDF-CrossBreakActionLaser.esp
Lunar-RustyServiceRifle.esp
SS2_BleachersDCStory_Patch.esp
3DNPC_FO4 FaceGen.esp
ss2c23dnpcpatch.esp
SS2_3DNPC_WarehouseDoorPatch.esp
SCM_EBF.esp
RandomValuablesRedus-WastelandVentures.esp
Lunar - EverybodiesBestFriend.esp
ScrapSkeletonsESL.esp
Lunar - IAF.esp
Lunar - UFO4.esp
Lunar - WorkshopFramework.esp
Lunar - SeeThruScopes.esp
Lunar-UniqueCreatures.esp
Lunar - InstituteStory.esp
Lunar - SCM.esp
Lunar-UniqueUniques.esp
Lunar-SuperMutantRedux.esp
TrueLegendary-SuperMutantRedux.esp
TrueLegendary-UNPCs.esp
LitR-TrueLegendary.esp
Lunar-NoneBallisticWeaveOverhaul.esp
LunarNone-AtomsGlory.esp
LunarNone-CrossBrotherhood.esp
LunarNone-CrossCourserStrigidae.esp
LunarNone-Elianoras.esp
LunarNone-Greaserats.esp
LunarNone-InstituteExpeditionarySuit.esp
LunarNone-LookAtMeInstitute.esp
LunarNone-SS2 Chpt2.esp
LunarNone-SS2 extended.esp
LunarNone-SS2.esp
LunarNone-WastelandVentures.esp
LitR - Legendary Clothing.esp
IAF-SurvivalChems.esp
UNPC-LFOFacials.esp
AForest-TrueGrass.esp
LookAtMeInstitute-InstituteStory.esp
UNPC-Orphans.esp
Orphans-VanillaChildrenPatch.esp
Orphans-BosSquires.esp
LitR-ModdedWeapons.esp
LitR - 3DNPCs.esp
LitR - Environment.esp
LitR - MusicPatch.esp
LitR - NPCs.esp
LitR - DamageLocalizationTweaks.esp
LitR - InsideJobs.esp
LitR - MinutemenTweaks.esp
LitR - NonGenericVats.esp
LitR - PowerArmorConsistency.esp
spacefiddle_WattzSoundAndReverb.esp
A Forest-Base Mod Patch.esp
LitR - Quest Conflict Resolution.esp
LitR - Settings Holotapes Sorting.esp
LitR-CodsworthNerf.esp
LitR-SettlerPatch.esp
LitR - SRO.esp
LitR - TrueStorms.esp
LitR - UNPCNamesWeightsHeights.esp
LitR - Weapons.esp
LitR - SKKRedRocket.esp
LitR-CourserCrusher.esp
LitR-MinigunClipRebalance.esp
LitR-MolotovsAndFlamers.esp
LitR-PrestonRewardNerf.esp
LitR-LegendaryTweaks.esp
LitR-Orphans.esp
LitR-SynthCapsRemoval.esp
LitR - Global Settings.esp
LitR-DisableCombatBoundaries.esp
LitR-RenameEmptyBottle.esp
LitR - SurvivalBeerAndCola.esp
LitR-FDF.esp
LitR-RandomValuablesRedux.esp
LitR - GameSettings.esp
ConcordRustyMinigun.esp
LitR - Survival Chems and Meds.esp
IAF - Far Harbor & Nuka World.esp
Nability - IAF Tales from the Commonwealth Patch.esp
Nability - IAF A Diamond City Story Patch.esp
QoL-DangerousDeathclaws.esp
Vault111LOD.esp
SanctBridgeLOD.esp
StarlightLOD.esp
lodfix_beantown_container.esp
lodfix_salem_museum.esp
NWTransCenLOD.esp
WestonWaterLOD.esp
LitR - LoD.esp
Region Names on Save Files.esp
BostonFPSFixAIO.esp
3DNPC-Deopt.esp
3DNPC_FO4-Patch.esp
NukaWorldPlus.esp
PrydwenOverhaul2.esp
CrimeTown.esp
CrimeTown[Previsibines].esp
Fallout 4 AI Overhaul - Better Goodneighbor Patch.esp
TrainBar.esp
RailroadRedone.esp
RRR 3DNPC Patch.esp
RRR - Improved.esp
DCVendorClutter.esp
ImmersiveDrumlinDiner.esp
CombatZoneRestored.esp
Stm_DiamondCityExpansion.esp
DiamondNewVendors.esp
LitR - Clarity-Post Precombines Patch.esp
LitR-RegionalSaves.esp
Clarity - 3DNPC.esp
Clarity - BoSStory.esp
Clarity - CombatZoneRestored.esp
Clarity - DCGuardOverhaul.esp
Clarity - FaceMaxon.esp
Clarity - InsideJobs.esp
Clarity - InstituteReformation.esp
Clarity - InstituteStory.esp
Clarity - RailroadRedone.esp
Clarity - SS2.esp
Clarity - StumbleUponInterios.esp
LFO Hardcore Patch.esp
LFHarderCore.esp
LitR - Water.esp
4estGimp - FallUI_R88_PA_INNR.esp
OnlyBlueVaultsuits.esp
QoL-VanillaRedRocket.esp
M8rDisablePipboyEffects.esp
M8r Complex Sorter.esp
LitR-SorterOverrides.esp
TrueLegendary-PlutoniumCreatures.esp
XDI.esm
SS2_XDI Patch.esp
SS2-PraRandomAddon-FIS.esp
SS2-PraRandomAddon.esp
SimpleSanctuary.esl
P.A.C. Ammo Factory.esp
Professional Ammo Crafting.esp