Hello and thanks for viewing this topic!
This request's point would be to intrest and convince you, a humble user, an artistic modder, or whoever you are, to take a look at this plea for an armor mod.
The idea of the mod is to re-create a similar, or exacting version of the outfit of one of the most badass characters in the Warhammer 40k universe, Lelith Hesperax.

"Lelith Hesperax is a Dark Eldar Succubus of the Wych Cult known as the Cult of Strife, and the undisputed champion of the gladiatoral arenas of Commorragh. She is by far the most deadly of her deadly kind, able to bring swift death with the slightest flick of her lithe limbs or flowing hair sewn with razor sharp barbs. She rarely speaks, although her voice has been compared to honeyed velvet. Most other Succubi look upon her in envy and awe. Rival Wych Cults whisper that her incredible skill is unnatural -- that she was modified by the Haemonculi, or that she sleeps in a baryonic sarcophagus filled to the brim with stimulant serum. The truth is far simpler -- she is a natural born killer."
                                                                                                                                                               -WH40K Wiki
After the short introduction, let's take a look at the lady herself.
Lightly armored, wich allows for more than agility than a cat's. Very mobile, relying on evasion rather than blocking deadly blows.      Most "endangered" areas are armored only, meaning arms, legs, mostly.  
Razor-sharp blades and daggers allow strikes with dealy precision, and for a deadly effect.
 
Pictures incoming!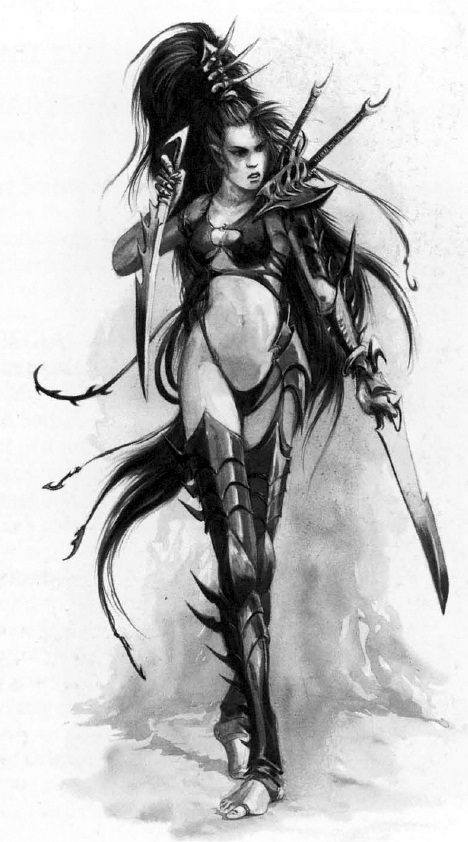 And a sketch:
With all the "sexy skimpy"  and "revealing"   armor mods on the nexus sites, i doubt that this idea, skimpyness given agility, instead of "flashing my breasts to stun my enemies";  would be a bold, stupid one.   Besides, considering the sheer beauty of this bodyglove, i also doubt that this would be marked as an obsolete and useless request, stating that this was made before.  It was not.

 
Thank you for reading this post, you are awesome.
However, it would give many people, including me, a high amount of joy to see this completed.
Should you find this request to your liking, or simply lack anything more important to do, i would be more than glad to supply you with everything i can, to make this happen faster.  Other mods that can be used, resources, etc.  I can help you.

                                                                     That's it then. thanks for reading, and please, consider this! Cheers!