Greetings dear modders,
So making a new custom race mod to use a custom bodyslide UNP slider + preset I made. the goal being able for players to be unique in their kind without having NPCs sharing same body.
It has additional features as well which makes the use of a custom race quite fancy.
But I'm not here to promote my futur mod, as I am facing a weird issue in Creation Kit when assigning my armor addons to that custom race.
On some vanilla armor addon I can't remove my custom race which was created using that step by step Creating a custom race - the right way + some other related tutorials.
Race is working fine.
Most of the vanilla armor addon I can remove my custom race.
If I make a duplicate of that armor addon and try to remove my custom race, I can't.
I can remove any other race.
I read somewhere that I'd need to make my race have "none" in race properties > General tab > Armor Race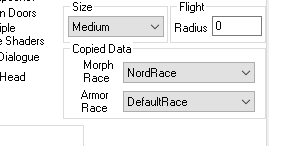 Then I would need to create an armor addon for every single piece of wearable even the one not needed like head. and it is already a tedious work if I can avoid that...
So here I come, looking for help from more experienced modders.
Thanks for reading.
Elmanouche