Hi everyone,

I'm trying to weaken the leadership of Lesbos for the quest "Chip On Your Shoulder".
Problem is: Every time the level is supposed to drop to "weakened" it resets to "fortified". I literally just killed a Polemarch, it took off the points (barely fortified anymore), 1 minute later, same fort, I pillaged the nation treasure and it was back to 100% fortified.
This never happened in other regions and I'm about 70% through the game. Some of those are still weakened or vulnerable from hours ago.
I don't know if this has anything to do with it but twice already (while I was in a different region), the quest popped up as completed and I had to reload. Figured some NPC had killed the leader and thought it pretty cool that "life" of NPCs continued even when you're nowhere near.
No spoilers, please.
Thank you in advance.
Update:
I left it alone for a while and all of a sudden the region was vulnerable. Meanwhile there were about 5 other times the quest was "completed" while on another mission. I interrupted one of those to finally get it done. When I got there (not having done anything but get one soldier out of the way) this showed up: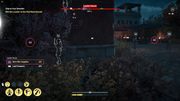 Anyway... this quest is weird.
Edited by riley2, 09 February 2020 - 02:36 AM.