Good evening everybody!
This is a mod that I wanted to create for a long time, but I don't know if it is even possible:
Is it possible for multiple settlements to "share" power between them?
Like if all of the generators and power-consuming-devices (lights, water purifiers, ...) were connected to the "same" electrical line.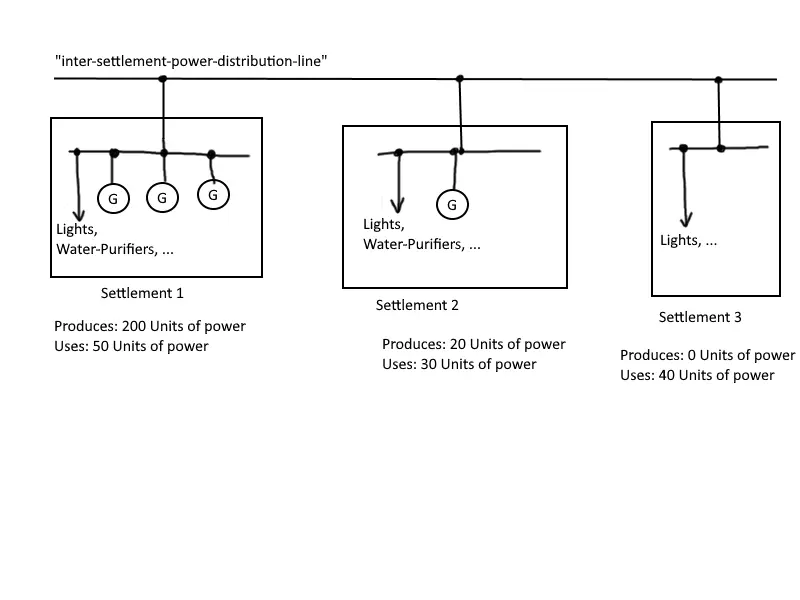 This is just a quick sketch I made to explain what I want to do.
(The circle with the G stands for a generator)
The numbers are just an example ...
With only one of those "inter-settlement-power-lines", the implementation would be simple, just a global variable that determines how much "unused" power every settlement "provides into the system".
But I want multiple of those things, dynamically "connectable":
What I mean by that is that when building stuff in the settlements, you will be able to build a "inter-settlement-power-distribution-module" that you can connect to the power system of that settlement.
That power-distribution-module can that be "configured" (by a terminal maybe?) to "connect" to every other built power-distribution-module.in any settlement.
(Maybe keywords could be used to determine with what other settlements the module is connected, ...?)
So that there isn't a "pre-wired power grid" that connects the settlements in a specified way, but that the player can decide what settlements get connected.
For example:
Have SanctuaryHills and the RedRocketStation "connected", but at a later point "add" AbernathyFarm to that "grid". And maybe at a later point add CountyCrossing to the "grid".
And have a completely seperate connection between Graygarden, OberlandStation and Hangman'sAlley.
I hope this makes sense, if you have any idea if something like this is possible, let me know here.
If I didn't explain properly what I want to do, also let me know ...
[I almost didn't post this, because I am sure that this will not be possible and I don't like wasting time / effort on impossible stuff, because knowing that you will never get anything out of something is not healthy ...]