Heyo everyone,
I'm pretty new to the forums, and dragonnexus. Hopefully my request falls under the format that is required in order to make a request. Here goes. First I wanted to say I wish I knew how to make graphic mods, but I never had the pleasure of learning how to. So that leads me to my request. I'm looking for someone to make Judge Gabranths armor from ff12/ffdissidia. His swords would be my second request. Stats I could really care less about, all i'm looking for is the mesh or some kind of mock mess that reflects the look. The biggest problem I've yet to see done yet, would be his cape. That would be a nice touch, but seeing as how the body parts a graphically seperated, that's probably a bad idea. So I'm just looking for the helmet, and the suit of armor. I'm guessing the sword can either be done as two seperate blades, or as some kind of polearm that resembles a doubleblade. I'll do my best to provide images that reflect each part.
Here's the armor:
This black color was what I was talking about down below.
The Helmet:
The weapons: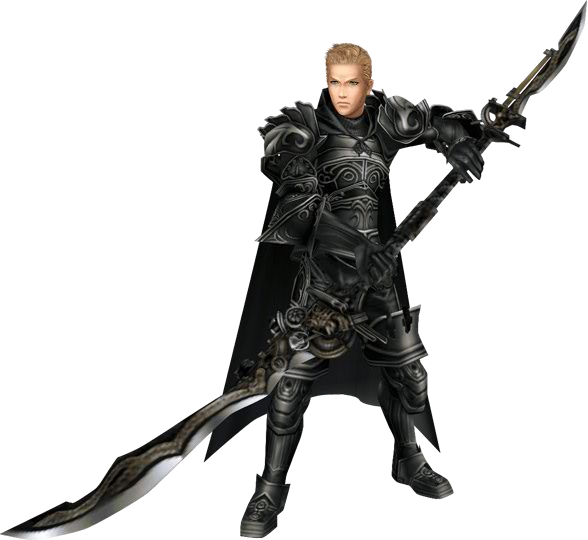 For some reason the older pictures I found make the armor look more silver with gold lining. The newer version is more a black armor with lighter black. The black to me would be a lot sicker, but obviously i'm just looking for more true to original. If anyone can attempt this i'd be in your debt. I'd assume this would be massive armor, but maybe it can be pulled off as just heavy. I can't seem to find any good pictures of the swords combind into the doubleblade. I'll keep looking and see what I can find.
I hope the amount of pictures isn't overwhelming, and I realize that this is no easy task. Especially with the stage of mod programs right now. I'm just curious to see one if its possible, and two if anyone besides me would be interested in seeing this. Thanks again.