As we come to the end of the second week (13th - 19th April) of Stay Home. Make Mods. I'm excited to see that 234 of our mod authors have submitted 303 mods across 57 games, up 30 from Week 1. That accounts for ~23% of the 1287 mods shared in total. Make sure you keep tagging your mods until 4th May to be in with a chance to win a prize.
Bannerlord and Skyrim SE dominated again this week with 21% and 14% of the entries respectively. It's nice to see more mods from Fallout New Vegas and Stardew Valley, along with the first entries from The Sims 4, Halo Wars 2, My Summer Car and more. 
Highlights
This week I've asked my fellow Community Manager and good friend BigBizkit to pick out a few highlights from Week 2 to share with you all. 
BigBizkit: Thanks, Picky <3! Hi all, I hope you're all staying safe for one, and also enjoying our event so far. We're thrilled to see how well it's been received! This week we've again had some amazing mods for Mount & Blade II: Bannerlord which really help to improve the experience. On that note: Picky and I have just recently started our Bannerlord careers, but with both of us being complete Mount & Blade newbies, so far we've pretty much had our butts handed to us... but we'll get there eventually! Anyway, without further ado here are my personal highlights of this week:
Loot Overhaul
- 
Infinizhen
- Mount & Blade II: Bannerlord

?
Improves some in-game loot mechanics, such as making lords drop their gear when executed or being able to configure the gear dropped by soldiers in battle. It also allows you to loot dead allies, too!
Better loot is definitely one of the things I'll need to get anywhere in Bannerlord! What I especially love about this mod is how configurable it is. You can boost your loot drops just a little bit, or go all out. Everything can be fine-tuned and tweaked to your liking.
Child Age Up
- 
Alizsabeth
- Stardew Valley
?
Now that your child has grown up, you can add portraits and character to your children and more!
They grow up so fast, don't they? Now thanks to this mod, you can customise your children in Stardew Valley and assign them portraits as well as schedules and even add custom dialogue!
Party Manager
- 
Wesir54
- Mount & Blade II: Bannerlord

?
Current features: Buttons to upgrade/recruit all units, Saved Upgrade Tier decisions, go left, right, or even split for each unit [...]Highly configurable (UI can be turned off if it conflicts)
"Party Manager" is not only what sounds like a fun job role, but also an absolutely essential quality of life mod for Bannerlord. Being able to sort units, easily upgrade them etc. is a time saver that takes away from some of the tedium of an otherwise enticing game!
Save the Icerunner - Lights Out Alternate Routes
- 
Parapets
- Skyrim Special Edition
?
Jaree-Ra in Solitude has a plan to set up a shipwreck. The ship is said to be full of weapons and riches, ripe for the taking. What will you do?
If, like me, you've always been a tiny bit frustrated with the lack of actual options in the infamous "Lights Out" quest, then this mod is for you! It provides not only one, but several role-playing friendly paths in this quest.
Mythical Weapon Pack
- 
Sushin and Davi3684
- Blade & Sorcery

?
20 weapons with unique gameplay effects. Elemental, life draining, mind controlling, weapons with a mind of their own. This pack has a lot of discoveries to be made and promises to add a whole new element to gameplay.
Mythical, magical, elemental weapons! Need I say more? If you're not already convinced by the sound of it, check out the
video
!
You can view all the entries for Week 2 here.
 Which ones were your favourites? 
Thank you Warhorse Studios!
I hope you all will join me in thanking Warhorse Studios for generously supplying some of the prizes this week. We've been working hard with Warhorse to make modding as accessible as possible to anyone who wants to mod Kingdom Come Deliverance. You can grab a copy of the official modding tools below and check out the detailed documentation for both the
modding tools
and
LUA scripting
too.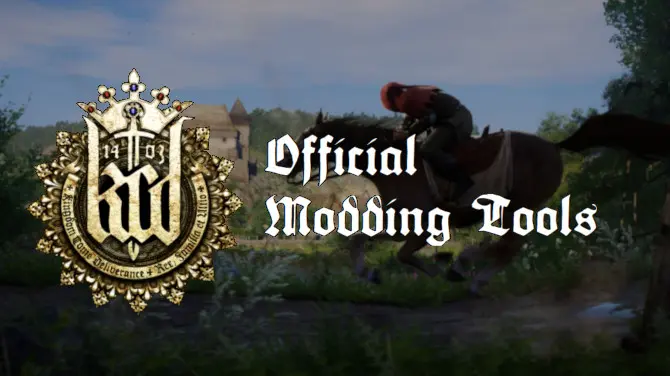 ??
Warhorse are looking for new team members to fill the following roles: Senior Programmer, Programmer, Senior Technical Artist/Character TD/Rigger, Quest Designer, 3D Environment Artist, Production Engineer and Animator. If you've think you've got what it takes and would like to know more, head on over to 
their careers site
?. Good luck!
Winners
If you see your name here you'll have already received a PM from either BigBizkit or me with instructions to claim your prize. 
Game of your choice winner
- 
EasySmithing? by Unterkatze1
Warhorse Prize winners
Don't be disheartened if you didn't win anything this time around. You can win a prize every week until 4th May,
check out this week's event here
. Don't forget you can also earn rewards by opting your mods in to our
Donation Points
system!
Stay Home. Make Mods.